"I can't find anyone to hire!"
"We lost someone to $20k more than we could pay."
"People want same day OnDemand Pay."
"Where is my bench strength?"
"Half of the interviewees we scheduled 'ghosted' us.
The number one topic my business partner, Darcy, and I are asked about lately is the hiring and retention of people. The pain felt by organizations around this topic is real.
Our goal is to help companies have clear strategic vision. Then the right leaders, people, and culture to make the vision come to life.
The Playbook has evolved from believing the exchange of money for work, plus an occasional office party, is enough to keep team members interested and engaged. Employees want more than a paycheck. They also want:
A POSITIVE culture and place to work
ENGAGEMENT in work that matters
Business that has PURPOSE beyond just making money
RECOGNITION for their contributions
Great PEOPLE to work alongside
Development of their skills for GROWTH
Without focus on these areas, you may be at risk. Here are two scenarios I've encountered.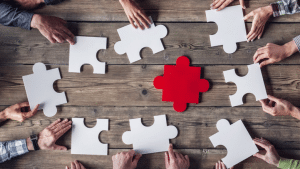 Zara started a new job as head of Customer Experience (CX). She enjoyed the hiring process and liked the people she met. When Zara asked for specifics on the role, she was told that she could "create her path" as she went. There were moments of negativity about the previous manager, but she didn't give it much worry.Zara's first day of work was rough. There was an onboarding plan but she was the only one following it. As she met with her team, there were different levels of engagement – from excitement about her coming on board, to complaints about the company. The benefits package wasn't as robust as she had been told, and no one from the Leadership Team (LT), including the President, came to check in and say hello.
Six months later, Zara regretted this career decision. Her boss rarely kept their One2One, and her requests for a formal mentor had become an open joke on the LT. She applied for a MasterMind program to help grow her skills and the company told her they didn't believe in the need for outside influence. Zara rallied her CX team and their customer satisfaction numbers rose by 12%. The Company President responded by saying, "when you hit 100% satisfaction for an entire year, then we will have something to celebrate". Finally, after asking HR several times to create a volunteer team for a local homeless charity and getting no reply, Zara Googled "do you have to show all jobs on your résumé when job hunting?"
Michael landed his dream job as head of Business Development for a regional firm in his dream city.
The interview and hiring process had been tough – a regimented process of interviews, group interviews, on-the-job work samples, behavioral testing, and reference checks. Michael was happy to do it all knowing everyone had been through the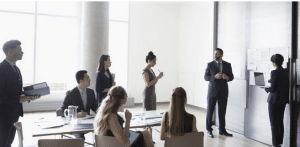 process. It was almost a guarantee the team he would join would be filled with sharp, like minded but diverse, leaders in their fields. The compensation was competitive but not his highest offer.
Michael's first week was a whirlwind of excitement. His workspace was decorated with welcome Post-it notes on his door and a meeting with the President in the first hour of his arrival. The President discussed the vision and values of the company and explained why each mattered so much to the success of the business. Each day, a member of the Leadership Team was scheduled for lunch and had an agenda to tell him stories about behavior and events that tied to the core values of the company.
Michael was assigned a "business buddy" who he could call at any time to ask questions about how things work and where to find information. He completed a form to help the VP of Leadership identify his needs in a Mentor, either in the company or in the industry.
At six months, Michael was thriving. His stair-stepped goals allowed him a sense of accomplishment as he grew his team and the business. The Portfolio on Clients had been a saving grace to help him learn and grow. He was working with the VPL to choose between a Coach or a MasterMind program to work with at the end of his first year. His performance was beyond the stated expectations and Michael was recognized by the President at a recent Town Hall.
Then, Michael got a recruiting call for a new company. The starting salary was an additional $30k. The job was interesting and the company was well known. Michael sought out his Mentor to discuss the option. He also asked his MasterMind group for input and knowledge on the company and their insight on whether he should pursue it. He finally went to his manager to talk. They had a volunteer day scheduled at the Ronald McDonald House and discussed Michael's options en route to the event. His manager asked him these questions:
Why is this new job appealing to you?
What are you looking to do in your career? Can you do it here?
Is money the only reason you would leave?
How important is culture to you? What would you want to change about our culture?
Are you excited about the learning and development plan you have here?
Do you see your opportunity to reach your goals here?
If you got to this role and they didn't give you a raise for two years to normalize your starting salary, would you be glad you left for the money?
Have you asked about the investment Company X will make in you? Mentoring, coaching, training, Leadership Development, clear opportunity for growth?
Michael realized simply by the fact he had a team of people to review his opportunity with and make the decision openly, he had his answer about where he wanted to be.
Both Zara and Michael walked into their new roles excited about the opportunity to make an impact, work with dynamic people, have purpose and meaning in their work, be recognized for their contribution, and make a difference in the world. Only one got to experience the gift of loving their job.
Companies will continue to see that great talent is not easily recruited. Once recruited people need to be encouraged, developed and become master recruiters to bring other talented people into the company. Healthy communication training is a baseline requirement to help people navigate conversations and reaching the vision/strategy.
When I left P&G to help start a non-profit, people were shocked that I left well over half of my salary and benefits to do so. They were even more shocked when I recruited several more people to do the same. Here are the reasons:
A POSITIVE culture and place to work
ENGAGEMENT in work that matters
Business that has PURPOSE beyond just making money
RECOGNITION for their contributions
Great PEOPLE to work alongside
Development of their skills for GROWTH
How does your company rate in these areas?