Description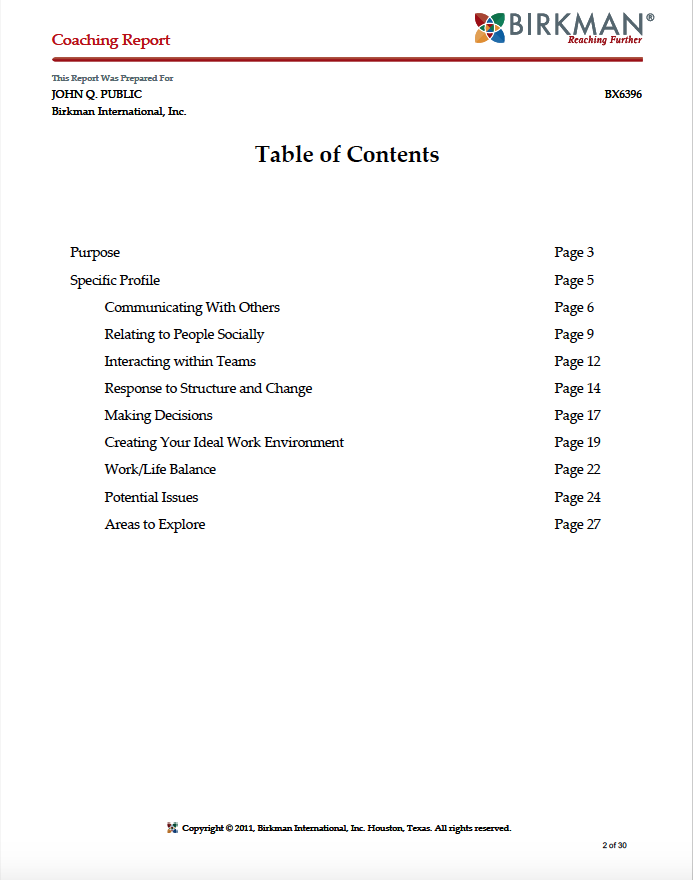 This coaching report is completely personalized to you by using the results from your Birkman Assessment. It will guide you through Communicating With Others; Relating to People Socially; Interacting within Teams; Response to Structure and Change; Making Decisions; Creating Your Ideal Work Environment; Work/Life Balance; and Other Potential Issues Areas to Explore.
The purpose of the Birkman Coaching Report is to provide you and your coach with a comprehensive assessment for self-management and developmental purposes. This report focuses on behavior within the range of normal human functioning and does not address clinical issues. This information is based on your responses to questions contained in the Birkman questionnaire and generated from The Birkman Method®
The Coaching Report is designed to:
Provide a means to increase personal and professional self-awareness.
Provide information to complement other processes important to coaching, such as the coaching interview process.
Describe your specific tendencies relative to important interpersonal and task-related activities.
Provide information to help pinpoint areas that may be current or future liabilities.
Provide areas to be explored within the coaching process that can be translated into specific coaching goals for you.
View Sample of The Birkman Coaching Report